WORKS IN PROGRESS
---
CELLO, MODELED AFTER THE "CASTELBARCO", 1679 by STRADIVARI

Here I am arching the back using small bronze finger planes. The back and sides are from a beautiful piece of Poplar, similar to the one used on the "Castelbarco". I check the arching against the plaster cast of a Stradivarius on my right
The finished back with my friend and mentor Boyd Poulson. The graduation (thickness) of the top and back replicate the "Castelbarco" as measured by Peter Westerlund with a Hacklinger gauge, courtesy of the US Library of Congress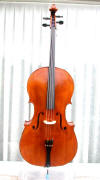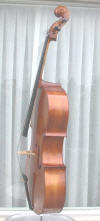 The finished cello. The varnish is a deep rich red in the manner of the old Italian masters. Beautiful resonate tone. Finished and available, see, Instruments by Peter Van Arsdale under Gallery of Instruments.
---
VIOLIN MODELED AFTER THE MILANOLLO, 1728,
ANTONIO STRADIVARI

The beginnings of a violin. On the left is the maple billet for the back and on the right the spruce billet for the top. In the background you can see the full size photo of the Milanollo violin.

The completed ribs on the mold and the rough back.

Carving the violin top. Here I am using a gouge and finger planes to shape the top. Checking my work with the full size drawings in the background.
The scroll begins to take shape. Getting a second opinion from my dog, Woody.